Y
ahoo has released its Yahoo messenger 8 beta.
Today, i got a prompt from YM 7 saying that some updates are available,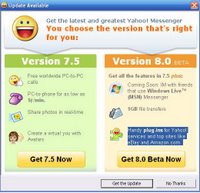 Upon selecting, YM 8 and downloading the installer from Yahoo, the installation proceeds as follows.
YM8 follows a 6-step installation process as shown in the six screenshots below.
Its similar to YM 7 except that it has some interface enhancements and Menu categorization.
Yahoo messenger's new interface,
Sign -in:
Signed-in:
Then, there are these so-called Plugins.Plugins for Yahoo Answers, 360 and Music, all integrated into YM.
Featured Plug-ins for YM8,
Overall, unless you are a fan of Y! Answers or Y! 360, YM 8 is not worth the upgrade, since there are no new features on the IM side.
Want to try, YM 8, then get it
here
Digg it here